Bob Massey
Composer and
Vocalist
Bob Massey will kick your ass for using the term "rock opera" in the same sentence as his name. No mercy. "The Nitrate Hymnal: A Dying Dream in Four Acts" bears no resemblance to "Tommy," "Rent" or "The Rocky Horror Show" (except for the scary nurse). The show involves DC underground rock musicians, New York avant-chamber players, film projections of Bob¹s grandparents circa 1941, and, yes, opera singers. The 2003 world premiere was produced by Anti-Social Music, directed by David Schweizer, commissioned by Washington Performing Arts Society, and supported by Creative Capital, the Randy Hostettler Living Room Fund, the National Endowment for the Arts/DCCAH, the Aaron Copland Recording Fund, and many forward-thinking individuals. Bob wrote the music and libretto, filmmaker David Wilson handled film and video, and both collaborated on the story.
Other noble endeavors: Bob masterminds the Gena Rowlands Band; plays in the Out_Circuit; curated the Punk Not Rock composer salon in DC; played with Amy Domingues and Devin Ocampo in Telegraph Melts; and played with Tsunami and Jean Smith. Bob¹s collaboration with video artist Althea Thauberger opens at the Berkeley Museum of Art in January 2005.
Bob was a 2004 Fellow at the Bang on a Can Summer Institute at MASS MoCA and enjoyed a 2003 residency at Atlantic Center for the Arts with New York City Opera Composer-in-residence Mark Adamo. It was at the latter that he was awestruck by John Corigliano's extensive knowledge of "South Park." Ghosts of Versailles, what?
In his other life Bob is a professional writer.bob@nitratehymnal.net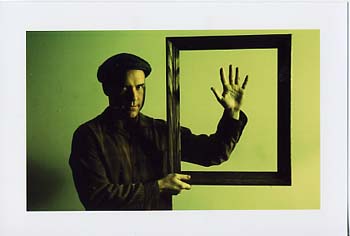 An Haiku:
Oh, kitty kitty!
How I dream of mowing you.
Ringworm knows no cure.
On the turntable:
Sliang Laos
David Lang, "Lying, Cheating, Stealing"
Arvo Part, "Orient and Occident"
Tom Waits, "Real Gone"
TV on the Radio
Breadwinner, "The Burner"
Sylvain Chauveau
Tetsu Inoue